A thrilling opportunity for our country town to be a part of this experience!
Our little town is busy preparing to bring Flemington Raceway to south west WA and our whole town will halt on 24th August to welcome the 2018 Lexus Melbourne Cup Tour as one of 37 destinations visited around the world, including the UK, Ireland, Korea and New Zealand.
Boyup Brook is the only regional location in WA to be included in the tour, selected to highlight the contribution the Melbourne Cup 'race that stops a nation' has made to our community in the lead-up to the Dinninup Show's Centenary on 6th November 2018.
Our rural community celebrates Melbourne Cup day in a unique way with the Upper Blackwood Agricultural Society Show always being held on the first Tuesday in November. This year marks the Centenary of the UBAS Show in Dinninup, a fitting occasion for this special Australian icon to grace our town as you won't see more community spirit and enjoyment had by everyone than at a small rural community's annual agricultural show.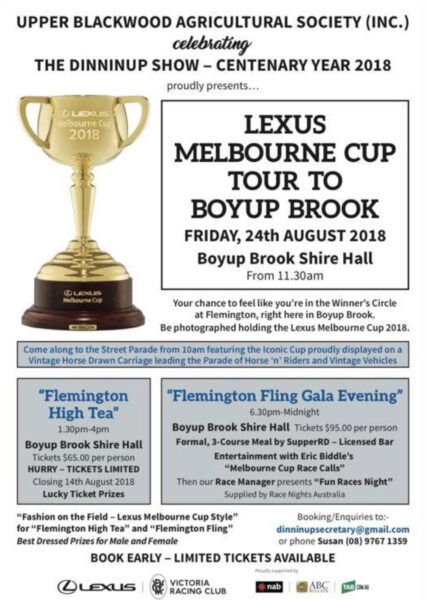 The Dinninup Show has been held every year since 1918 without fail, not even stopping for World War II – instead, raising funds for the War Effort. With cattle, sheep, shearing, poultry, agricultural produce, horse events including halter, hacking and showjumping, cooking, photography, art and crafts, show bags and rides – there is something for everyone to enjoy on show day at Dinninup.
After visiting the Boyup Brook Hospital and the Boyup Brook Aged Care Home for residents to view and have photographs taken, the 2018 Lexus Melbourne Cup Tour celebrations kick off with a free street parade featuring vintage horse drawn carriage, horses and riders and vintage cars.
Everyone is invited to come and see the iconic 18-carat gold trophy – you can get right up close and will even be able to hold it (wearing a white glove of course) and I will be there to take your photo holding the cup as a keepsake of this once in a lifetime opportunity!
The festivities continue with the Flemington High Tea in the afternoon and continue Friday night with our own very exciting Flemington Fling Gala Evening which is set to be loads of fun!
Then early Saturday morning I will be out at Dinninup Showgrounds photographing the UBAS committee dressed in vintage attire for the 100 years theme. I've photographed the horse events at the show for the past seven years, but I have to admit I am really looking forward to taking a step back in time to celebrate the centenary.
If you would like to attend the Flemington High Tea, or get a table of friends together for the Gala Evening, please contact Susan on the number below or see the events Facebook page – tickets are limited, so don't wait too long otherwise you may miss out!
I am really excited to be photographing the tour events here in Boyup and will post a link on my Facebook Page when the online galleries are ready for viewing.